Ultimate Tips to Scale Facebook Advertising for More Leads and Sales
YES! Sales are the ultimate motto behind hefty investment in Facebook Ads. But how many of you are actually getting the right count of leads and sales?
Well, of course not all!
Handling Facebook Paid Ads isn't as simple as making a cup of tea. Instead, it needs research and detailed analysis of the market to find the best and most effective paid marketing strategy for your business. Whether you are a newbie marketer testing Facebook ads or a professional marketer looking to boost your ROI, it's crucial to understand how you can accelerate your business's leads and sales.
This article educates you with the upscaling tactics and grows your overall profit.
Create Precise Facebook Audience(Hot & Super Hot)
Right targeting is half victory to earn significant leads and count. You should find segregate the Facebook audience among four audience types i.e.
Cold Audience: Cold audiences are the people who are completely unaware of your business.
Warm Audience: Warm audience includes people who have ever surfed any of your web pages or made a page engagement.
Hot Audience: This is a strong audience category that has high conversion potential, but unfortunately, these people have never made a conversion on your website.
Super-Hot Audience: Among all super-hot audiences is the most sizzling ones that have used your services/products. In short, they are the returning customers.
Create a hot and super-hot audience via saved audience and lookalike audience. Deep dive into the Facebook stats and check the customer base you already own. Whether you are using the Facebook database or website database, gathering customers will help you grow your audience on Facebook and help you get high leads.
In another way, you can consider this audience as a remarketing audience, which is already aware of your brand and has a high potential of conversion.
Create HOT Audience:
Now it's time to start with a HOT audience and upscale your Facebook Ads ROI. Here are the steps that will help you create the audience.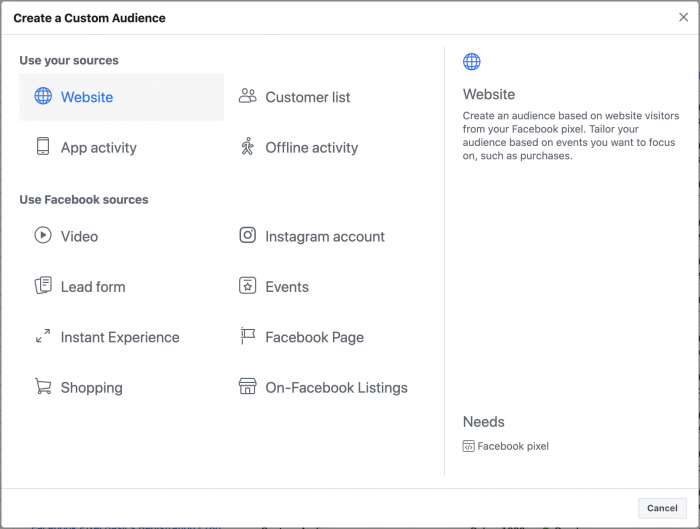 Step 1: Visit Facebook Audience page
Step 2: Click on Custom Audience
Step 3: Choose "Website Activity"
Step 4: Keep "All Website Visitors" as-is and change the audience duration to 180 days
Step 5: Save your audience
TIP: Limiting the audience duration to 180 days isn't the only option to choose. Instead, if you have huge traffic every month, you can shorten the duration and keep a limited audience in your target area.
Create Super-Hot Audience:
Another part of elevating the Facebook Ads ROI is creating a super-hot audience. Here are the steps that will help you create the audience.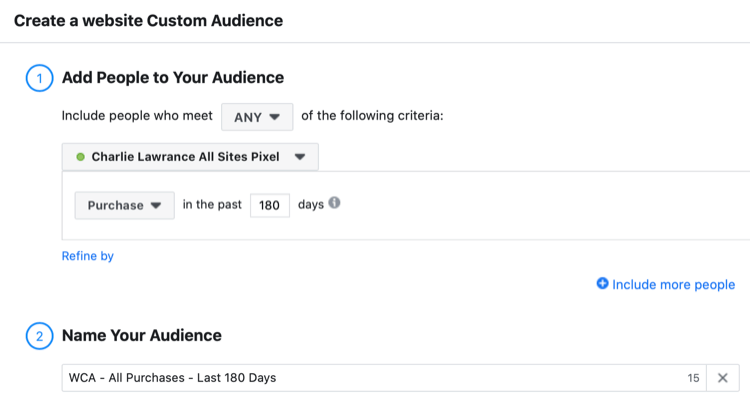 Step 1: Visit Facebook Audience page
Step 2: Click on Custom Audience
Step 3: Choose "Website Activity"
Step 4: Select "Purchase" from drop down options.
Step 5: Change the audience duration to 180 days
Step 6: Save your audience
Retarget Your Hot and Super-Hot Customers for Increased Sales
Now you have segregated the Hot and Super-Hot audience; it's time to run retargeting ads that can drive huge conversion to your bucket list. In both audiences, you must run separate Ads to track their outcomes and measure the results.
Depending upon your lifetime or daily budget, both Facebook Ads will deliver you a significant hike in sales count and let your business reach new heights. If you are good at running Facebook Ads via advance mode, go for it. Else, you can select the Quick Creation option to save your time and efforts/
Remember, in both the Ads, your objective will be 'Conversion' because you have created your audience based on website conversions.
When it comes to Ad format, you can go with a single image or video. Single images or videos are easy to create and save your Ad-creation time.
Apart from these settings, it's recommended to leave the rest as recommended by Facebook. These settings are good to go live, and you can start tracking the results.
Increment Your Facebook Budget Every 4-7 Days:
Adding a small amount to the overall budget can give a bump to your results.
According to the right thumb rule, it's always good to start adding 10%-15% to the existing budget. Remember, doubling your budget overnight is never a good practice. The reason being, you can't acknowledge the impact and analyze how the price hike influenced the results.
Furthermore, you should avoid editing the budget too frequently. With frequent changes, your Facebook Ad goes into the Learning phase and delivers you lately.
Swing the budget whiting 4-7 days and test every findings to check which budget gives you the optimal results.
Find the Most Profitable Audience:
Your Ads are running fabulous but do every Ad performs well, as per your expectations? No, there are some Ads that aren't performing well. So, you must find the most profitable Facebook Ads and invest more on that audience.

The best way to find a high ROI audience is by checking best-performing Ads. You get four options to filter the audience, i.e.
By Time
By Delivery
By Action
By Dynamic Creative Asset
Among all, Delivery has the best results for your conversation targeting. Now you can check which audience is delivering you high conversions and how many of you maintain backlinks on a daily basis.
Use Automated Facebook Ads:
What if nothing is rolling as per expectations? Don't worry; it's time to let Facebook decide what's best for you and optimize the Ads accordingly. Facebook has numerous automation tactics that will help you find the best opportunity to drive sales and traffic to your business. Facebook automation also helps you spend the budget smartly.
Except for budget, time-duration, and audience, you can let facebook choose the best optimization settings for your Ad. Let it run overnight and examine the results and match the findings with your expectations.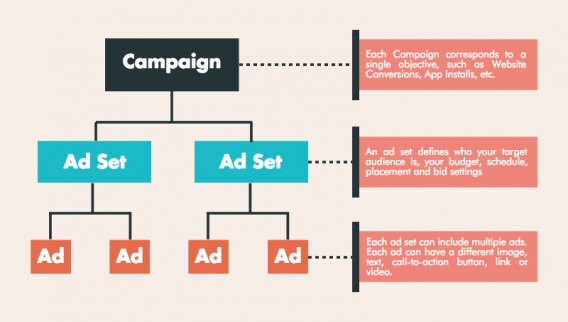 As a safety precaution, you must prefer running multiple Ad Sets with different audiences that let you find which Facebook Ad is delivering you desired results. This way, you can also segregate the cumulative budget and let Facebook decide on which Ad Set to invest more.
Create Automatic Rules:
Running multiple Ad Campaigns with unsatisfactory outcomes? Well, Facebook has a solution to this heck. Using Facebook Automation Rules, you can set rules on specific campaigns that meet the specific conditions. The custom rules check every campaign, adapt and Ads and update them accordingly if the condition matches.
You can adjust the budget, adjust maximum bid, turn on/off campaigns and even notify you if the custom condition is met.
When creating an effective rule for your Ads, you must choose
The criteria that trigger the rule
The action your rule takes on the ad
The active campaign, ad set, or ad that you want the rule to affect
Automated rules let you manage multiple Ads in a single go. Creating and executing custom rules are highly effective if you want to:
Stop a low-performing ad
Increase your budget if a certain number of people click on your ad
Increase your bid if your total daily spend is below a certain amount
Increase your budget based on return on ad spend (ROAS)
Turn off a specific campaign every Friday
With that said, you can start working on an effective Facebook Ad campaign with high ROI. If you are not able to fully execute the right format, it's better to hire a Facebook ads agency and start experiencing good results.
So are you ready to skyrocket your Facebook ads and start collecting new searches and new stages? You should start implementing the above-mentioned points.